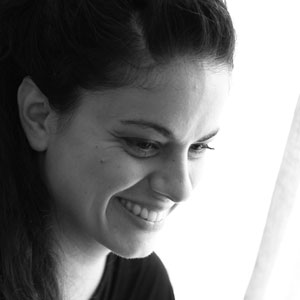 Mariza
architect, product designer & manufacturer
Mariza Tsiligkiridi was born in Athens in 1983. She has studied Architecture in the National Technical University of Athens.
Particularly fond of small space architecture and drawing solutions upon implementation, Mariza decided to enter the field of industrial design and manufacture of everyday furniture, lightning fixtures and objects, thus establishing MaRaiz Design Products. Her source of inspiration involves streets, old-stuff shops, warehouses, industries, construction sites, travels and music.
In every construction, each part has a predetermined use. The creations of Mariza prove the exact opposite. Materials that live in obscurity take a different role; furniture about to go to waste is dismantled or used unaltered in imaginative and peculiar compositions.
She likes to create multi-functional spaces and practical furniture by combining traditional, contemporary and industrial design in an innovative way. She also believes that the architecture of both spaces and objects is a living organism that should be in the position to transform easily according to the users' needs.
In 2017, her design "The Cava Project" gets the Bronze A' Design Award at Furniture, Decorative Items and Homeware Design Competition of the A' International Design Award and Competitions. Then, Mariza Tsiligkiridi has been officially nominated for the Prime "Designer of the Year" title by the IAD members.
Member of ICCI (International Council of Creative industries), IDC (International Design Club), IAD (International Association of Designers).
stavros
Environmental/ civil Engineer & Construction Project Manager
Stavros Tsiligiridis was born in Athens in 1981. He has studied Environmental Engineering in the Technical University of Crete.
Since 2005, he has been working in the construction field, organizing and managing construction and renovation projects for residences and commercial spaces.
A restless spirit; a fast and effective person.
In the '80s, Stavros will meet Mariza. Twenty years later they will start collaborating closely, fraternally, complementing one another.
After several years of training and working together in an engineering company, they will establish their own office at Neo Psychiko working side by side till today.